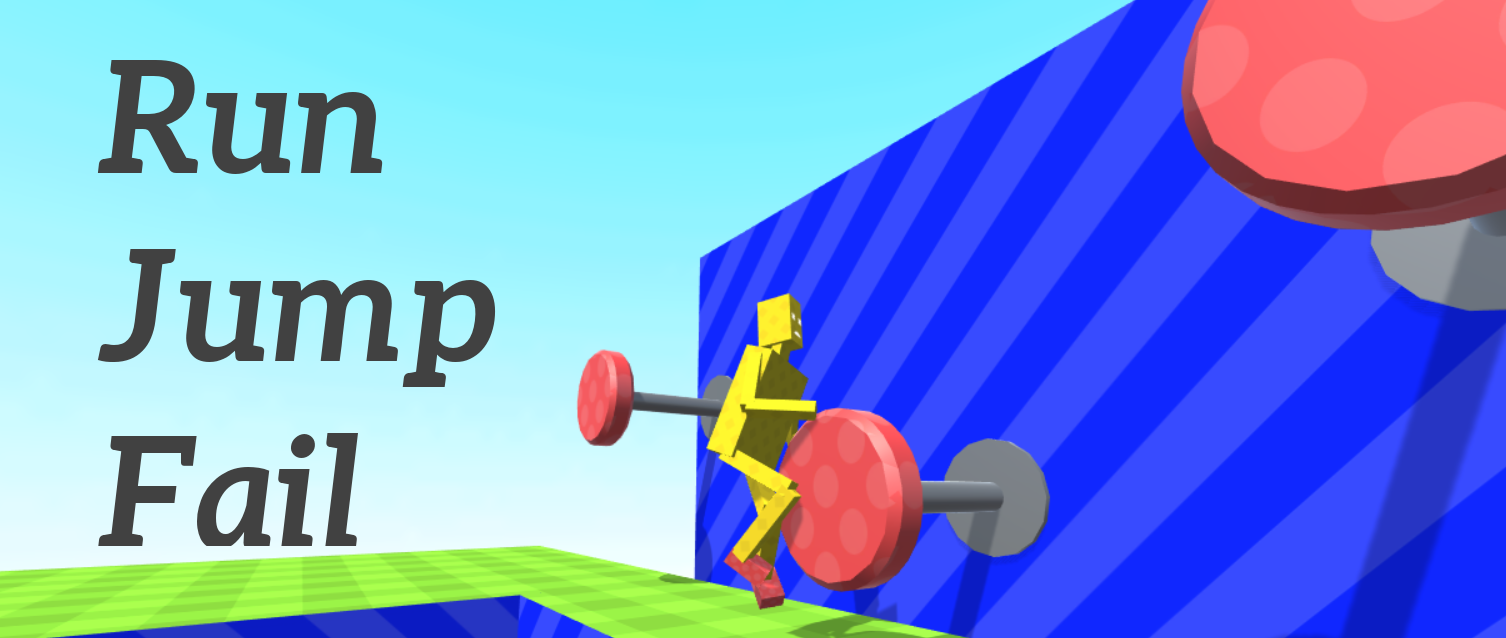 Run Jump Fail
You wanna run? You wanna jump? You're gonna fail. Again. And Again. But its fun to fail...right? Take control of HappyMan and hop skip and jump your way past low walls, big balls and spinning red things! A bunch of obstacles await, so get to it.
Run Jump Fail puts you in control of the hapless HappyMan, and tasks you with guiding him through a whole load of treacherous obstacle courses. You'll fail a lot along the way, but watching HappyMan collapse and flail when he's just run into a wall, or tripped on a ledge, or been hit by a big red spinning thing is a lot of fun.

Seriously, failing is 90% of the fun. So fail away.

The game is a 3D platformer that's dead simple to pick up and play in short bursts, so if you need a break from grinding away at the latest 50 hour epic RPG and fancy a spot of fun filled action, look no further.

Obligatory feature list:
Unique physics based 3D platforming action.
Ragdolls!
50+ obstacle courses, and more on the way.
Minigames.
Sandbox playgrounds.
HappyMan! (he's just the best)
Purchase
In order to download this game you must purchase it at or above the minimum price of $3 CAD. You will get access to the following files:
Comments
Log in with itch.io to leave a comment.
Please make it free on itch.
Looks like this isn't available on Steam in Australia? (Can find it in the store but it's not available to purchase) either way downloading now after one of the kids asked if they could have it, looks fun!
Hey, thanks for letting me know! Glad you found it here. Enjoy!
i live in australia and i thought it got deleted or luke o connor took it down or something but then i found this page!
On Windows you should be able to double click the zip file to open it, and then just click on Extract All to unzip the files to a new folder. Enjoy!
This game was honestly so fun. Fully completed it tonight and it was a blast. Cheers luke
I remember seeing Clint Stevens play this. Really happy that this was in bundle, i can't wait to play!
This game delivers. It's pretty fun!
I saw YuB's gameplay on this and it looks great! But I can't play it so can you please make a mobile port? You don't have to if you want.
Hi, thanks for your interest in Run Jump Fail! I have been toying with idea of porting this to mobile, so I'll let you know if/when that happens.
I saw his as well.
It's amazing. :)